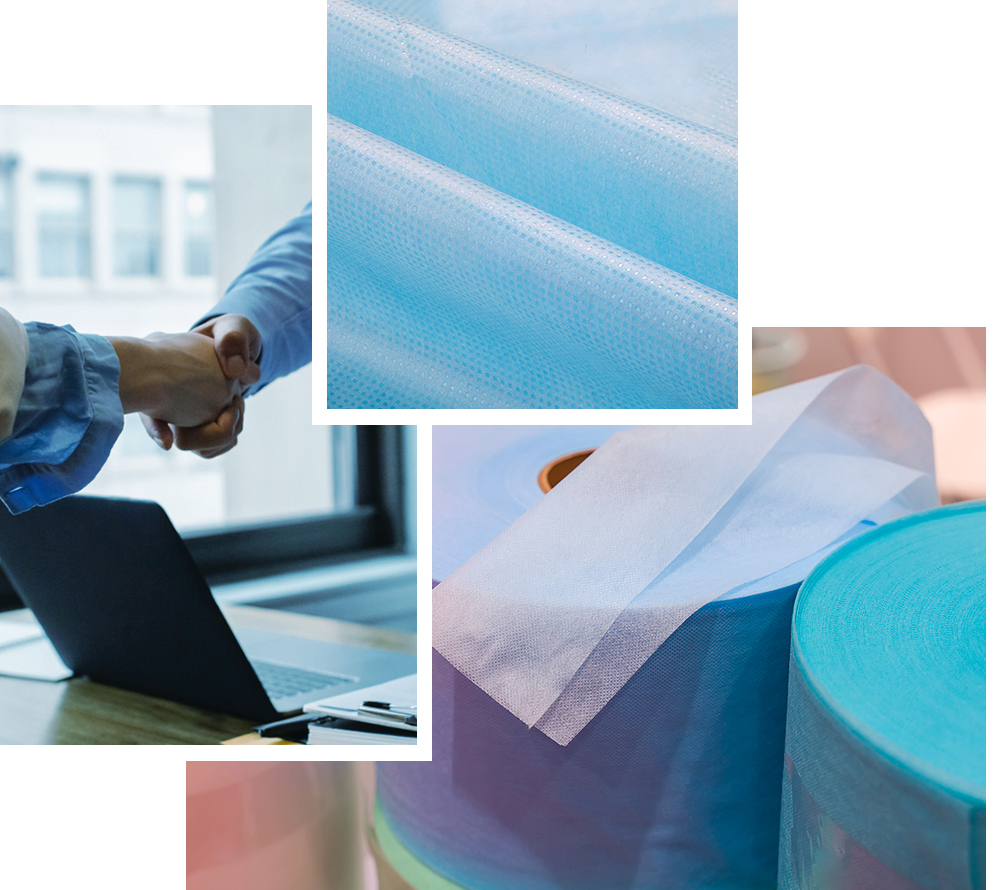 Who we are
Golden Phoenix Fiberwebs, Inc. (GPF) is belong to the Promax Textile Group, which produces elastic nonwovens and elastic laminates with exclusive patented technology, rooted in the land of Taiwan. We inherited experiences and technical of what Promax has obtained from the domain of textile making in the past 30 years and apply on our production and development, launched Elaxus® and its extended products. We have a vertically integrated production line (from raw materials to goods), which brings three benifits: customizable production by demands, stable and comprehensive quality management, and internal recycle system that can realize circular economy.
Our core value

Innovation
break through traditional thoughts with newly developed technology, which help us keep remaining leadership in the industry.

Environmental friendly
chemical-additive-free products and non-glue-use production lines let us realize internal recycling to reduce the impact to environment.

Customer satisfaction
we purse to have the highest quality with our products, and we value every client's needs.

Stable relationship
we manage to secure our relationship with customers through risk management and alliance of strategy.
Our advantage
1

We offer flexible or uniqe customization service for customer's market strategy.

2

We keep our thoughts innovative and flexible, so we can react promptly to the fast-changing dynamics of the market.

3

We respect the environment and take care of the topic of sustainability, which help us become on the same page with trends and expects of the market.
Our Milestone
1991The founding of Promax Textile Group which devoted in producing and selling apparel fabrics.

2000The founding of nonwoven business, GPF which started developing, producing and selling elastic nonwoven fabrics.

2001First line, manufacturing exclusively patented elastic nonwoven, which has a trade mark - Elaxus®.

2002Started manufacturing and converting disposable hood, gloves products and launched 3D mask products Bio-A-Safe™ & Easy-O-Fit™.

2003China (Shanghai), USA (Pennsylvania), and Germany (Dusseldorf) offices started to run.

2004GPF 3D mask was nominated within the top5 finalists of the Visionary Award hosted by the prestigious Fabrics Industry Association, USA.

2004Registered CE 93/42/EEC in Germany. Certified by ISO 9001 and ISO 13485.

2005Developed lamination technology with elastic film and set up the first emboss production line and launched Optiflex™ & ElaxTab™.

2006Developed new lamination technology, set up non-embossed laminate production line and launched Joyflex™.

2009set up the second non-embossed laminate production line and launched Texflex™.

2011Developed innovated lamination technology of elastic nonwoven and set up the first two-way-stretched laminate production line and launched Duflex™.

2012Built an internal recycle system at all plants, which was certified by the Global Recycle Standard (GRS).

2014Optimized nonwoven manufacturing technology, set up the first cotton-like soft laminate production line and launched Cozyflex™ and Optiflex-s™ (the upgraded version of Optiflex™).

2015Certified by ISO14001.

2017The new plant started producing, which helped us increase a lot of production capacity. Launched Viviflex™.

2018Further improved nonwoven technology, set up the first supremely soft laminate production line and launched Soflex™
Industry 4.0
We own an advanced sensor device that can detect and send back the information and status about how our products are being manufactured on each production line. Thanks to the intelligent technology, our quality control team is able to act rapidly to issues and defective processes, which help us maintain a low defection rate.
What we do
We carefully select the raw material that we use in production, and, to reach the feasibility of internal recycling within the manufacturing, we adopt polypropylene based resin to produce all products. By doing so, there is no industrial waste generated while the production lines are running and we can take good use of raw material in a high effeciency. Our production activity is based on the premise that we do what is possible to lower down our carbon emission, which aligns with our core value to support the topic of sustainability and keep eco-friendly (please refer to
Circular Economy
). In research and development, we thoroughly find out what the true needs and trends of the market are, and we adjust our pace and direction accordingly. We are able to design innovative materials that go alone with customer's market strategy, and we push ourselves to the limit to bring out over 100 new R&D cases per year, in order to secure our leading position in the market.
In terms of service, we have a number of sales agents and consultants spreading all over the word, and, when our clients encounter unexpected issues, emergency, and urgent situation, they are capable of responding to them right off the bat. They regularly help us get updated with invaluable information acquired from the market where they are in.
Speaking of the aspect of sales, we are now supplying our products to 30+ countries in the world, and they are mostly in the scopes of: